No to torture - 1982
After Delacroix's 'Women of Algiers in their apartment' - 1834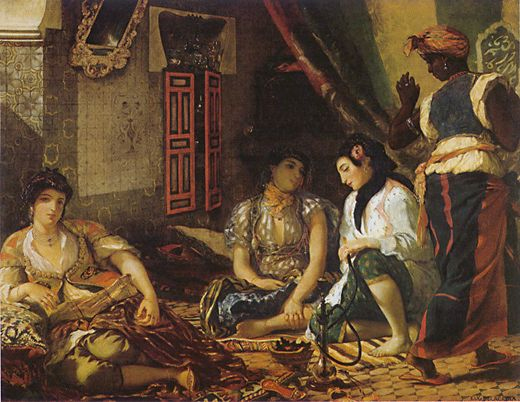 The starting point: "
Women of Algiers In Their Apartment

"
Eugene Delacroix 1834
A selection of articles, reviews and essays between 1986 and 2006.
"Houria Niati questions the exotic stereotype created by Delacroix's women of Algiers and perpetuated in Picasso's fifteen canvases based on the same work. Historically Delacroix's original coincide with the establishment of French colonial rule in Algeria, and Picasso's abstracted versions mark the end of that rule (1954).
Niati brings history full circle with her painting, back to independent Algeria and the contemporary Algerian woman. Unlike Picasso's formal experimentation, her response goes beyond form to the dignity of women. The paraphernalia of clothing, jewellery, carpets etc. have been removed and one is confronted with the naked truth of her feminine reality.
Suspended in the picture plane by expressive strokes of intense primary colour, her women emerge out of backgrounds of dark moody purple, Prussian blue and viridian. They evoke not only elation and dread, and the contrasting Algerian light but also the intensity of her anger over the suffering of Algerians and the exploitation of women. Equally, though, they speak of her admiration for Delacroix's use of pigment. As in many of her pastels drawings there is an echo in these canvasses of the rock paintings of Tassili in southern Algeria. In the same manner her ancestors places images onto a surface to express their world with fantasy and innovation, making a historical mark she has followed.' Nicholas Serota & Gavin Jantjes, extract from 'From Two Worlds' catalogue at the Whitechapel Gallery, London, 1986.
Back